One of the world's biggest devils is in hell already and we thank God for that. Many have long waited for this, many have suffered this horrible evil most of their lives, and can finally celebrate their freedom. But is Cuba really going to be free someday? The reactions of world leaders are a clear indication of what they really stand for. Read what Gorbachev and Putin have said, and if you still believe they are against the New World Communist Order, then you should end up in a gulag. Why? because you don't deserve anything better than to taste their evil to know what they are all about. 
"World Leaders Respond To Fidel Castro's Death,"
Source: zerohedge.com
Former Cuban leader Fidel Castro, who established a communist regime in Cuba that survived the collapse of the USSR, inspired revolutionary movements around the globe and brought two superpowers close to nuclear war before stepping down after 49 years in power, died last night at the age of 90. Castro passed away at 10:29 p.m. Friday local time, his brother President Raul Castro, who has ruled the country since 2006, said on state media Nov. 25. He will be cremated early on Saturday.
Reactions to his death, like his life, were deeply divided. World leaders including Russian president Putin, South Africa's President Jacob Zuma, India's Prime Minister Narendra Modi and several Latin American politicians issued statements and tweets highlighting Castro's achievements and extolling his virtues.
World leaders paid tribute on Saturday to Fidel Castro, the Cuban revolutionary leader who built a communist state on the doorstep of the United States, but in death just as in life he divided opinion, and critics labeled him a "tyrant". Quoted by Reuters, Mikhail Gorbachev, the final leader of the Soviet Union which had long acted as an economic and political prop for Cuba, said Castro left a lasting mark on his country and on world history.
"Fidel held his ground and strengthened his country at the time of the harshest American blockade, at the time of massive pressure on him," Gorbachev was quoted by Interfax news agency as saying. "Nevertheless he led out his country from the blockade to the path of self-sustained and independent development."
In a telegram of condolence to Raul Castro, Russian President Vladimir Putin called the late leader an "inspiring example for many countries".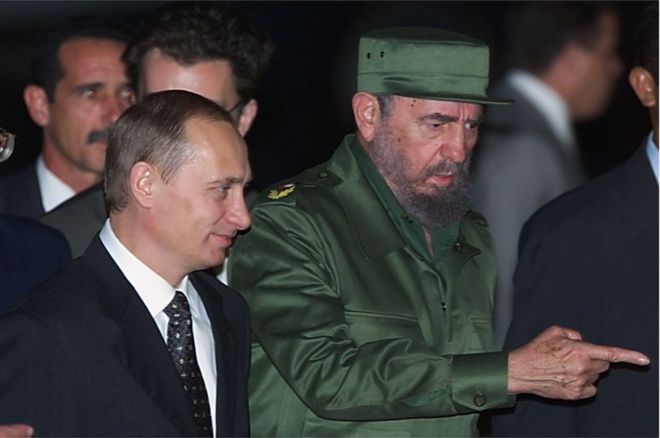 In his message to Cuba, Putin said:
"I offer my deepest condolences to you and the entire Cuban nation over the death of your brother, the leader of the Cuban revolution Fidel Castro. The name of this remarkable statesman is rightfully viewed as a symbol of a whole era in modern history. Free and independent Cuba built by him and his fellow revolutionaries has become an influential member of the international community and serves as an inspiring example for many countries and peoples.

Fidel Castro was a sincere and reliable friend of Russia. He made a tremendous personal contribution to the establishment and progress of Russian-Cuban relations, close strategic partnership in all areas.

This strong and wise man always looked into the future with confidence. He embodied the high ideals of a politician, citizen and patriot who wholeheartedly believed in the cause, to which he devoted his life. Russians will always cherish his memory in their hearts.

In this mournful hour, I ask you to pass on my words of sympathy and support to all members of your family. I wish you courage and tenacity as you face this irreparable loss."
EU Leader Jean-Claude Juncker responded emotionally, tweeting
"with the death of #FidelCastro, the world has lost a man who was a hero for many."
Chinese President Xi Jinping said in a statement that:
"the Chinese people have lost a close comrade and a sincere friend". Xi hailed Castro for his contribution to the development of communism both in Cuba and around the world. Comrade Castro will live forever."
India's prime minister Modi sent his "deepest condolences" to Cuba.
"May his soul rest in peace," he tweeted. "Fidel Castro was one of the most iconic personalities of the 20th century. India mourns the loss of a great friend."
Castro was "a unique figure who fought against colonialism and exploitation" and was "a model of the fight for independence by oppressed nations," said Iran's foreign minister, the Fars news agency reported.
Philippines outspoken president was also celebratory, saying for the Philippines' president, Castro distinguished himself by
"standing up against the West and imperialism".
The sentiment was shared in Vietnam whose official Communist news agency hailed Castro as
"a great leader" who was "the shining reflection of the independence and revolutionary movements of countries in Latin America and around the world."
In Venezuela, a long-time ally of Cuba and staunch opponent of the political stance of the United States, President Nicolas Maduro said Castro had inspired and would continue to inspire his country.
"We will keep on winning and keep fighting. Fidel Castro is an example of the fight for all the people of the world. We will go forward with his legacy," Maduro told television station Telesur by telephone. "To all the revolutionaries of the world, we have to continue with his legacy and his flag of independence, of socialism, of homeland," tweeted Maduro.
In Bolivia, where Ernesto "Che" Guevara died in 1967 in a failed bid to export Cuba's revolution, President Evo Morales said in a statement:
"Fidel Castro left us a legacy of having fought for the integration of the world's peoples … The departure of Comandante Fidel Castro really hurts."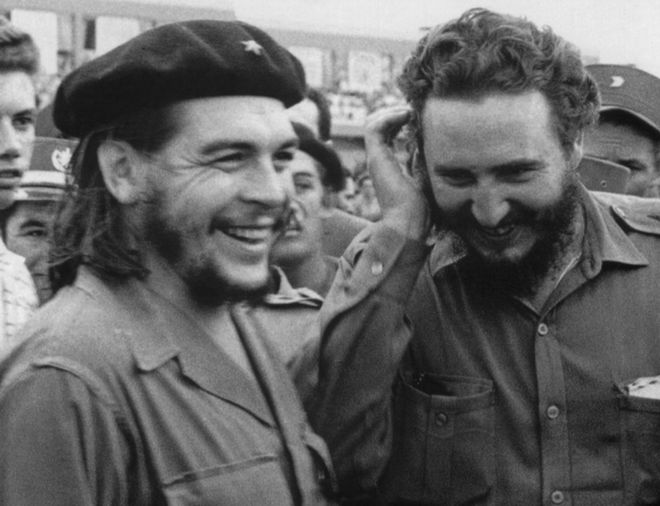 Ecuadorean President Rafael Correa said:
"A great has left us. Fidel has died. Long live Cuba! Long live Latin America!"
South African President Jacob Zuma had warm words, thanking the Cuban leader for his help and support in the struggle to overthrow apartheid.
"President Castro identified with our struggle against apartheid. He inspired the Cuban people to join us in our own struggle. As a way of paying homage to the memory of President Castro, the strong bonds of solidarity, cooperation and friendship that exist between South Africa and Cuba must be maintained and nurtured."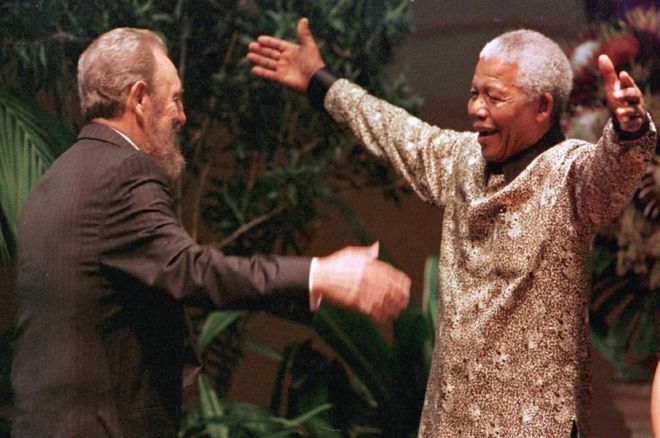 French President Francois Hollande mourned the loss of a major figure on the world stage and welcomed the rapprochement between Havana and Washington, while noting concerns over human rights under the Castro regime. "Fidel Castro was a towering figure of the 20th century. He incarnated the Cuban revolution, in both its hopes and subsequent disillusionments," Hollande said in a statement.
"France, which condemned human rights abuses in Cuba, had equally challenged the U.S. embargo on Cuba, and France was glad to see the two countries re-establish dialogue and open ties between themselves," added the Socialist party leader. Hollande met Fidel Castro in May, 2015 during the first ever visit by a French head of state to Cuba since the Cuban revolution.
The UN Secretary General said
"At this time of national mourning, I offer the support of the United Nations to work alongside the people of the island."
Spain's Prime Minister also delivered a statement, sending his condolences to Cuba's government and people, via Twitter, where he described Castro as "a figure of historic significance".
Even Argentine football legend Diego Maradona lamented Castro's death saying "I'm terribly sad as he was like a second father."
Later in the morning, president Obama also issued a statement:
* * *
At the same time, crowds of exiled Cubans and their supporters gathered on the streets of Miami to celebrate the passing of a sometimes unyielding ruler who divided families and ruled with an iron fist. Havana, meanwhile, remained quiet.
In contrast, the reaction from some Cubans living in the United States was scathing and celebratory. U.S. Congress representative Ileana Ros-Lehtinen, a Cuban-American Republican from Miami, said in a statement: "The day that the people, both inside the island and out, have waited for has arrived: A tyrant is dead and a new beginning can dawn on the last remaining communist bastion of the Western hemisphere."
"Those who still rule Cuba with an iron grip may attempt to delay the island's liberation, but they cannot stop it. Castro's successors cannot hide and must not be allowed to hide beneath cosmetic changes that will only lengthen the malaise of the Cuban nation. No regime, no matter who leads it, will have a shred of legitimacy if it has not been chosen by the people of Cuba in free and fair elections."
In Miami, in the area surrounding the Versailles Restaurant where many exiles who fled the Cuban revolution live, people took to the streets in their cars in the early hours of Saturday morning to celebrate Castro's death.
Hundreds of people gathered waving flags, banging pots and pans and carrying umbrellas to shield them from steady rainfall. "This is the happiest day of my life, Cubans are finally free," said Orlidia Montells, an 84-year-old woman. Ros-Lehtinen framed Castro's death as a chance for the U.S. to pressure Cuba to enact democratic reforms.
"Not until the gulags are closed, elections are held, political prisoners are freed and liberty is restored can the United States lawfully end its embargo against the communist regime in Havana. The time to act is now," she said.
As Bloomberg notes, It's not yet clear how Castro's passing will impact the delicate detente between the U.S. and Cuba. Relations between the two countries have thawed since 2014, with President Barack Obama visiting Cuba this year and promising to ease sanctions that have crippled the island's economy for half a century. However, on the campaign trail President-elect Donald Trump criticized Obama for making "concessions" to the regime.
* * *
Finally, US President-elect Donald Trump has a simple, if quite factual reaction to Castro's passing.