After opening a new office in Berlin last month to help serve its 28 million users in Germany, Facebook founder Mark Zuckerberg is currently visiting the German capital, one of his "favorite cities in the world."
During his two-day visit he met with politicians and regular social media users to discuss a thorny subject: Facebook's responsibility to eliminate hate speech from its platform.
"No city in the world symbolizes bringing people together more than Berlin," said Zuckerberg, who went for a run in the German capital.
It's a topic that hits close to home for Germans, who in the midst of the refugee crisis have been struggling to condemn hate speech spread through social media.
Facebook's own terms of use prohibit any form of bullying, harassment and threatening language and the world's largest social network also agreed last summer to follow German hate speech laws, which are much stricter than in other countries and ask for racist comments to be deleted within 24 hours.
But for months Facebook has faced tremendous criticism over its slow response to anti-immigrant posts by far-right Facebook users, often affiliated with neo-Nazis.
Keeping promises
To discuss the issue, Zuckerberg met Chancellor Angela Merkel's chief of staff, Peter Altmaier, who said in an interview afterwards that "given its exceptional size and importance, Facebook has an enormous responsibility when it comes to content that's spread through its platform."
Press secretary of the Chancellor's office, Steffen Seibert, tweeted the interview, in which Altmaier further said:
"We've been working with Facebook for a while now to make sure hate speech is eliminated. I discussed with Mr. Zuckerberg that we are demanding illegal content to be deleted, and I am optimistic that we're well on the way to have concrete results how to get this done this year."
Hate speech not tolerated
The concern over xenophobic and racist content also came up at Friday's Townhall meeting in Berlin, where Zuckerberg answered questions from some of the 1,400 people who were invited to attend the Q&A session.
Social media users could watch the session on a live stream posted to Zuckerberg's Facebook profile and chime in online as well.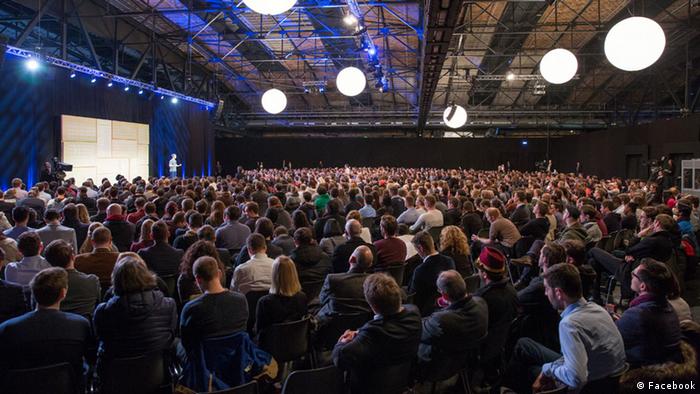 1,400 invited guests attended Zuckerberg's Townhall Q&A in Berlin, with 250,000 streaming the meeting online
Confronted with the amount of hate speech directed at refugees, Zuckerberg said at the meeting that "hate speech has no place on Facebook," adding that "until recently in Germany I don't think we were doing a good enough job."
Meeting Merkel last September made him realize that Facebook has to do a better job, he said, adding that since then, Facebook has "done a handful of things" to better deal with the issue, such as hiring a task force of 200 people to monitor and eliminate racist posts on Facebook in Germany.
Promoting counter speech
The world's largest social network recently launched the Online Civil Courage Initiative, a project encouraging people to speak up against hate speech as a way to tackle xenophobic and racist content on social media.
Meeting Angela Merkel made Zuckerberg realize Facebook has to do more to protect refugees
Facebook Chief Operating Officer Sheryl Sandberg commented on the Online Civil Courage Initiative, saying:
"With extremism damaging lives and societies across the world, challenging those voices has never been more important. Deleting content won't make the hatred go away.
"We can't just treat the symptoms - we have to treat the cause. We need the voices of tolerance and love to ring out across the world, because the best remedy to bad speech is more speech."
Protecting migrants
Zuckerberg said that the most important step Facebook has taken to deal with hateful comments directed at refugees and migrants is changing its definition of hate speech.
"The definition in our community has always been around protecting certain groups of people, and one of the things that is unique about Germany is that migrants are a protected class," Zuckerberg said at the Townhall meeting.
However, that's not how Facebook has been operating around the world, according to Zuckerberg, as migrants weren't part of the network's definition of racial and underrepresented groups that need protection and that have to be monitored for hate speech.
"Learning more about German culture and law has led us to change our approach to include hate speech against migrants as part of what we now have no tolerance for," he said.
Zuckerberg admitted that this is still a work in progress and that Facebook needs the help of its users who reach out and tell the platform what they deem offensive. "We recognize how sensitive this is and we are committed to doing better. There's no place for such content on Facebook."
Germany as role model
The 31-year-old CEO also congratulated Germany for taking in 1.1 million asylum seekers last year.
"German leadership in the refugee crisis has been inspiring and has been a model for the rest of the world," he said. "It takes courage and humanity to realize that there are people out there who need a home."
Facebook's mastermind announced that his company donated more than 1.1 million euros ($1.2 million) to help develop partnerships in artificial intelligence (AI) with European research institutions, which he said could also be used to help identify hate speech online in the future.
Limiting freedom of speech?
But not everyone is excited about Facebook's new commitment to tackle hate speech. Some social media users argue that this is limiting their freedom of speech.
Others jokingly say hate speech is part of the very fabric of social media and thus cannot be minimized.
What do you think - should governments force Facebook to remove hateful or racist posts by its users?
Source: d-w.com